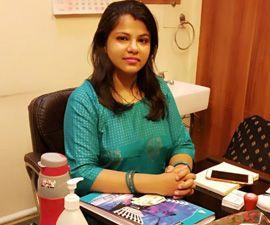 Dr. Nidhi Yadav Musculoskeletal Physiotherapist
Registered Musculoskeletal Physiotherapist
Certified in Manual Therapy
Specialist in Kinesiotaping
BPT, MPT- Musculoskeletal

Dr. Nidhi Yadav is a registered Musculoskeletal Physiotherapist from The Delhi Council for Physiotherapy and Occupational Therapy (DCPTOT) society. She holds a Master degree in Physiotherapy with specialization in Musculoskeletal & Bachelor Degree from Banarsidas Chandiwala Institute of Physiotherapy (BCIP) affiliated from Guru Gobind Singh Indraprastha University (Delhi).
She specializes in manual therapy approach to her treatments and exercises based sport injury rehabilitation techniques. She is a trained Kinesiotaping specialist and has research experience on advance orthopaedic cases.
She possesses 7 years of experience. A graduate trainee from Hindu Rao Hospital - Delhi, she has been working with renowned hospitals such as Primus, Orthonova etc. in Delhi/ NCR. She has recently completed a four-year term as Senior Physiotherapist in Cygnus Orthocare Hospital (South Delhi).
She aims for her patients to get back to doing what they love…..Quick Recovery !
Dr. Nidhi Yadav specializes in the following musculoskeletal problems:
• Back Pain • Neck Pain • Shoulder Pain
• Tennis-Golfers Elbow • Knee Injuries • Ankle and Achilles Tendon Injuries